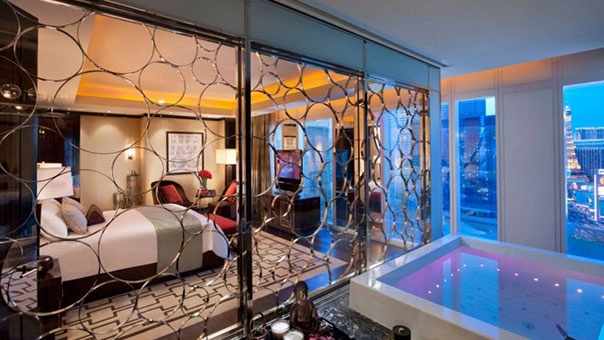 Barcelona, the enchanting capital of Catalonia, is renowned for its stunning architecture, vibrant culture, and exquisite Hotels. In this article we recommend the Best hotels in Barcelona
Barcelona is a city that beckons travelers from around the world, it is also a destination where luxury and relaxation seamlessly blend. Imagine a stay where you can immerse yourself in the opulent charm of the city while indulging in rejuvenating hotel massage services. In this article, we unveil the crème de la crème of Barcelona's accommodations, each offering an unparalleled fusion of lavish hospitality and exquisite rooms.
Barcelona, a captivating blend of art, architecture, and vibrant energy, is a city that leaves an indelible mark on its visitors. To enhance this unforgettable experience, the city offers a range of exceptional hotels that epitomize luxury, comfort, and style. From historic landmarks to contemporary havens, here's a curated selection of the Best hotels in Barcelona, promising a remarkable stay for every traveler.
Which is the best Hotel in Barcelona?
Rising proudly against the Mediterranean backdrop, discover the Hotel Arts Barcelona: An epitome of modern luxury. With its sleek architectural design, lavish accommodations, wonderful hydrotherapeutic installations (which can be really funny) and sweeping sea views, this hotel embodies sophistication. Indulge in culinary delights at its Michelin-starred restaurants, rejuvenate at the lavish spa, and enjoy the stunning infinity pool overlooking the beach, all contributing to an unparalleled experience of opulence and relaxation. This is the preferred hotel of our most exclusive clients and, without a doubt, our main recommendation and the answer to the question
Why does the W Barcelona have such a peculiar shape?
A futuristic wonder on the skyline, the W Barcelona, resembles a sail. It is a hub of contemporary chic. Offering panoramic views of both the city and the sea, this hotel boasts a rooftop bar and infinity pool that redefine relaxation. Its avant-garde design and lively ambiance attract trendsetters and those seeking a stylish getaway.
Which is the best Hotel in Gràcia?
The Majestic Hotel & Spa: Nestled in the heart of Passeig de Gràcia, the Majestic Hotel & Spa is a symbol of timeless elegance and luxury. Seamlessly blending classic charm with modern comforts, the hotel offers exquisite rooms and suites. The rooftop terrace presents an enchanting panoramic view of the city, while its Michelin-starred restaurant invites you on a culinary journey through exquisite flavors and refined tastes.
Does the "Mandarin Oriental Hotel Group" have an Hotel in Barcelona?
Yes, the Mandarin Oriental, Barcelona: Nestled within the city's elegant boulevards, the Mandarin Oriental is an oasis of sophistication. Focusing on personalized service, the hotel's rooms and suites exude understated luxury. The spa offers holistic treatments in a tranquil setting, and the rooftop terrace and pool provide a breathtaking view of Barcelona's iconic sights.
Cotton House Hotel a neoclassical gem from the 19th century.
The Cotton House Hotel combines timeless grandeur with contemporary aesthetics. Located near Passeig de Gràcia, this hotel exudes elegance with a modern twist. The lush rooftop terrace offers a haven of serenity, while the hotel's library invites you to unwind in an atmosphere of refined relaxation.
Which is the most glamorous Hotel in Barcelona?
El Palace Barcelona: Transporting you to a more glamorous era, El Palace Barcelona is a testament to timeless luxury. Dating back to 1919, this historic hotel exudes regal opulence and classic elegance. The lavish rooms, adorned with antique furnishings, create an atmosphere of grandeur. The rooftop pool with panoramic views and the Mayan-inspired spa ensure a stay that's truly unforgettable.
In the heart of Barcelona's rich tapestry of experiences, these are the Best hotels in Barcelona, and stands as beacons of refined luxury, catering to discerning travelers seeking the best of both worlds—contemporary elegance and historical charm. From sweeping rooftop vistas to indulgent spa experiences, Barcelona's finest hotels offer not just accommodation, but a gateway to a world of style, comfort, and sophistication.
Every visit to this mesmerizing city deserves an equally exceptional stay, and these hotels deliver nothing short of extraordinary memories that will linger long after your journey has ended. Adding a massage to your hotel experience can greatly enhance your overall well-being in the city and make your stay even more memorable. Beyond just relaxation, erotic massages offer a range of benefits that contribute to both your physical and mental health. Here are some compelling reasons why incorporating an erotic massage into your hotel stay can be a game-changer:
Stress Relief and Relaxation
Traveling, while exciting, can also be stressful. A massage provides a dedicated time to unwind and let go of built-up tension. The soothing touch of a skilled therapist's hands can alleviate stress, reduce anxiety, and promote relaxation, leaving you feeling refreshed and rejuvenated.
Muscle Tension Relief
Whether you're exploring a new city or simply sitting in meetings all day, activities can lead to muscle tension and discomfort. Massages target areas of tightness and knots, helping to release tension and improve flexibility. This can contribute to better posture and overall physical comfort during your trip.
Improved Circulation
Massages stimulate blood flow, which can enhance the delivery of oxygen and nutrients to cells throughout your body. Improved circulation not only promotes healing but also helps to flush out toxins, leaving you feeling revitalized.
Pain Management
If you're dealing with any chronic pain or discomfort, a massage can provide much-needed relief. Therapists can focus on specific areas of pain, such as the neck, shoulders, or lower back, using techniques that help reduce inflammation and improve mobility.
Better Sleep Quality
Traveling across time zones or simply being in an unfamiliar environment can disrupt your sleep patterns. A massage can help regulate your body's internal clock, promote relaxation, and enhance sleep quality, ensuring you wake up feeling well-rested and ready to take on the day's adventures.
Save this list of the Best hotels in Barcelona for your next trip and do not hesitate to contact us to experience an erotic massage that you will never forget.