Spanish Grand Prix 2018: Formula 1 in Barcelona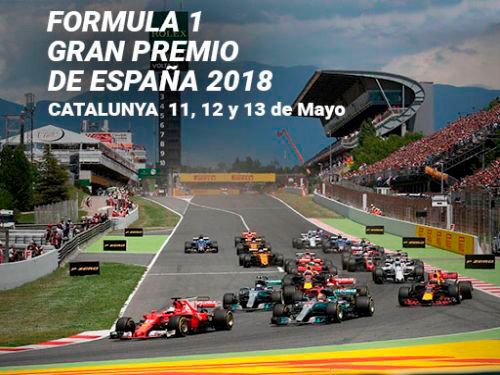 Formula 1 is again approaching at the Circuit de Barcelona, and is that from 11 to 13 May the best drivers return to one of the most attractive circuits of the season. Fernando Alonso and Carlos Sainz are the Spanish representatives in a grid where we can also enjoy with Lewis Hamilton, Sebastian Vettel, Kimi Raikkonen and all the stars of the engine.
Without a doubt, the Spanish Formula 1 Grand Prix has become one of the dates marked in red on the calendar of motorcycle lovers. These cars will run at more than 300 kilometers per hour for the enjoyment of the attendees. Montmeló is one of the favourite circuits for both the drivers and the public, who enjoy the show and the good weather in Barcelona.
Cars and massages in Barcelona
In addition to the passion for Formula 1, it is precisely the charm of the city that makes this Grand Prix one of the favourites of the people. Travelling to Barcelona is always a good plan, especially in May, when the temperatures are really pleasant. In addition to the endless cultural offer, why not enjoy a good massage? We will come to your own hotel room to avoid complications and you will experience a relaxing treatment without having to leave your room. I'm sure that after spending the whole day enduring the roar of the engines you'll want to disconnect and return to calm.
To release tension and leave behind the adrenaline rush so typical of the speed circuit, our masseuses will concentrate on your body with their ancient techniques. Only then will you return to the state of tranquility and relaxation you deserve. This way, you will be able to relive a day of excitement on the asphalt. If not, it's also highly recommended that you be in good shape before your return trip, so you can choose from a variety of massages to help you recharge your batteries.
Thousands of people come to the Montmeló Circuit to experience this event live, so the city is preparing for a new disembarkation of motor enthusiasts. If you like cars and want to combine this event with a comforting experience, contact us to receive a massage that will make you enjoy as never before. There's nothing wrong with unleashing your instincts and putting yourself in the hands of our expert therapists. They will let you know what true speed is….
In short, this is the best excuse to combine two different versions of pleasure: to see the fastest cars in the world and to enjoy the best erotic massages in Barcelona. Are you going to miss it?