Four hands erotic massage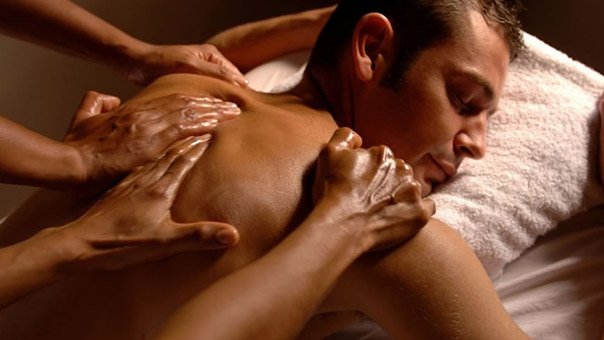 What is the key to the most exclusive erotic massage?
This erotic massage, four hands, is characterized by the involvement of two of our erotic masseuses. A massage in which you can get twice the relaxation, twice the sensations throughout your entire body, and of course twice the pleasure.
Our masseuses achieve that with the four-hand massage and the different techniques they use, you reach a state of relaxation and pleasure on all levels, both physical, mental and spiritual.
What is its origin? Four-hand massages are based on the Ayurveda philosophy, on the ancient medicinal art of India. It is a traditional treatment that achieves a man to achieve balance in the two hemispheres of his body, making him relax and experience pleasure symmetrically and progressively throughout his body. Two people working for you to achieve global harmony.
To achieve this body and mind harmony, it is essential that our therapists are coordinated. They are responsible for relaxing all the muscles at the same rate in the same parts of each hemisphere of your body.
Once they have managed to relax your whole body, they use their techniques to stimulate the different erogenous zones of your body. Thanks to this, the man is able to reach a state of pleasure that he had not discovered before, because he has the dedication of two professional erotic masseuses to provoke waves of pleasure in each erogenous zone.
There will be erogenous zones that were unknown to you or to which you had not paid much attention and our masseuses will guide you in their discovery. You will also be able to know the way in which you prefer each area to be stimulated, since erotic massages are not only performed with the hands, but also with other parts of the body. Also, with your own hands there are multiple different massage techniques that can make you experience different sensations and for that, all you have to do is abandon yourself to pleasure and open yourself up to feeling.
In addition to having an open attitude to what you may feel, we also advise you to allow yourself to be surprised. In a two-hand massage, the next movement can be predictable, but in a four-hand massage we cannot know what the next movement will be, so we do not advise you to imagine what the next movement will be. Let the desire grow in you and simply enjoy this combination of massage techniques chosen to bring men to maximum pleasure.
What are the benefits of a 4-hand massage?
The four-hand massage provides the benefits of two full-body massages performed at the same time, focusing all the attention of each masseuse on an erogenous part of the body.
Relaxation
The techniques used by our erotic masseuses introduce you to a state of relaxation and liberation that helps relieve and even solve problems of insomnia, anxiety and stress. This, in addition to improving your quality of life, also prevents low libido.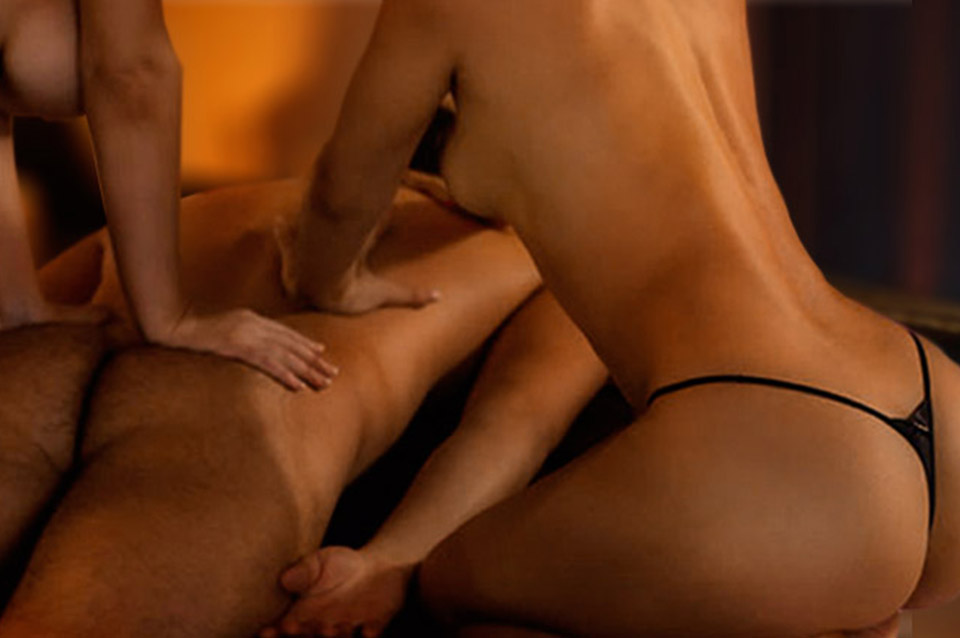 They enhance the sexuality of men
Four-hand massages also improve blood circulation and eliminate muscle tension. Thanks to this, it is possible to lengthen erections and delay ejaculation by loosening the muscles of the male organ and the pelvic area, it can even enhance the intensity of the orgasm.
Any erotic massage leads you to the self-discovery of your body and how you can feel pleasure. This will make you more confident, increase your self-esteem and allow you to communicate to your partner what you like. All these factors will increase the quality of your sexual relations considerably.
The pleasure that a four-hand massage gives you
Our masseuses achieve with the four-hand massage that you feel a pleasure that you had never imagined. In this massage they coordinate and complement their massage techniques so that each new movement surprises you and fills you with pleasure. Forget the tension and let yourself go, the four-hand massage is an experience to surrender to the pleasure that you are feeling at the moment and notice how your excitement grows as this experience progresses.
Feel a release of all the tension in your body and your sexuality through a four-hand massage at our erotic massage center in the heart of Barcelona. At Shiva Massage we take care of all the details so that as soon as you enter you feel that you have teleported to a place full of exoticism. Sensuality and harmony surround you in each room thanks to its lights and aromas. Everything is prepared to offer you an extrasensory experience at the hands of our best erotic masseuses.
In this very sensual and erotic experience your body and mind reach a new state of excitement thanks to our masseuses, you will be able to achieve a global harmony between body and mind through waves of pleasure. A fantasy that comes true.
Enjoy this experience that all men have to live at least once in their lives. Come to Shiva Massage and choose between the 45 min or 1 hour session.
You can consult your doubts or prices by calling +34 934 880 869 or writing to us by Whatsapp at +34 666 930 802. This way you can also book an appointment and ask about the possibility of receiving this massage at your hotel if you do not want go to the center You have more information about erotic massages in your hotel here and erotic masseuses. A massage in which you can get twice the relaxation, twice the sensations throughout your entire body, and of course twice the pleasure.