How to tease with a great erotic massage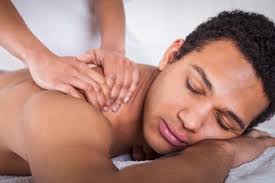 We live in a complicated world, full of stress and distractions that take the best of us. One of those things that we lose is the desire and concentration during sex. It is for this reason that it is worth lightening the burdens of mental and physical of your boy before you have a session of fiery sex with him.
This sensual massage will help you do that. Through your hands and your body, you should cause the mind of your man is clean of anxieties and duties, so that it is ready to give you the best that you have in terms is relaxed. In six simple steps, we teach you to do this:
Pour a few drops of oil to massage into the palm of your hands and rub them to warm it up. Starts moving the hands along the length and width of your body: neck, back, buttocks and legs. These simple caresses are ideal to release the accumulated tension.
Now massage in a circular shape. It is a basic movement where your two hands should form circles in the same direction. The thumb and the index finger, draw large circles, exerting a gentle pressure on the skin.
Another technique is nice to kneading. It serves to stretch the skin and releases large amounts of stress accumulated in the shoulders, back, hips, thighs and other parts of the body. Begins by the shoulders and go down the back until you reach the buttocks and the hip. Do not forget to whisper to his ear how much that excites you to pet him that way, slow and delicious.
Place the hands flat on the chest of your partner. Caress gently and looks down toward the lower part of your body. Stop in the penis and rub it with delicacy. Take it with the hand, and masturbate a little before continuing.
Continue with this technique to stimulate the pressure points of the back that enhance the overall well-being. Cup the hands and place them on the sides of your back, with your thumbs on the spine. After, run your hands up and down across his back, applying a gentle pressure with the thumbs. In this position you can also "walk" with the thumbs along her spine, massaging each vertebra. Don't push too hard so you don't hurt him.
The final stage of a good massage should include a few soft touch. Tap subtlly with the fingers across the back, in an almost imperceptible movement that will put the skin of gallina. Now switch the roles so that you might have the opportunity to enjoy the pleasures that he has just experienced, thanks to your hands.
Turn on the engines of your guy with this sensual massage. It is everything you need to make him tremble from desire before having sex. Try it!