Affiliate World Europe 2022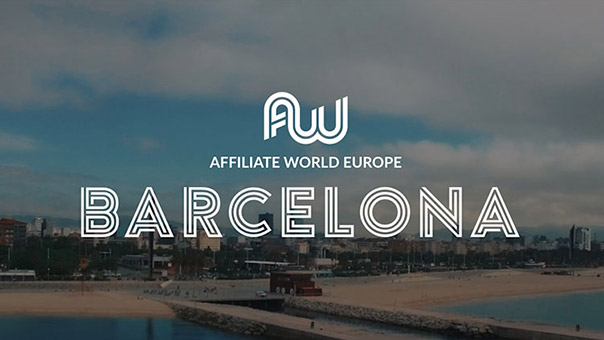 Affiliate World Europe makes a stop in Barcelona from July 6 to 7, 2022
Held twice a year in Asia and Europe,
Affiliate World is the largest e-commerce and performance marketing mastermind you'll ever experience. Over 4,000 of the world's top performance marketers attend to enhance your networking opportunities and, most importantly, your key points for increasing profits. This year the Affiliate World Europe will take place from July 6 to 7, 2022 at La Fira de Barcelona, ​​which is Barcelona's trade fair institution and one of the most important in Europe.
This biannual conference connects marketers from around the world. It is a meeting place where novices and experts come together to network, learn and advance the industry. Popular attendees' backgrounds include performance marketing and e-commerce.
How to get there?
There are numerous options for getting around the city. The most convenient are taxis, buses and subways. From Barcelona-El Prat airport, you can take the A1 or A2 bus for a direct route to the conference venue.
If you prefer to take the metro, get off at the "Barcelona-Sants" station which is approximately 1 km from the conference venue.
Industry professionals like SEO expert Neil Patel see Affiliate World as having grown into what he considers "the industry's absolute must-see event." It is the world's leading gathering of influential performance marketing and e-commerce professionals. You'll connect with the brightest minds in the industry, soak up thought-provoking content on stage, and be exposed to a show floor teeming with career-boosting opportunities.
The companies of the future at Affiliate World Barcelona
N1 Partners Group announced Tuesday that it is preparing to make its debut at Affiliate World Europe. The company considered that it was "an excellent opportunity to learn more about the trust company, the principles of the company and the privileges that partners receive."
The two-day conference will bring together more than 200 companies from different countries and more than 4,000 participants. "It's the perfect place to get a feel for the latest trends, data-driven strategies and innovative insights in affiliate marketing," said N1 Partners Group.
The company will participate for the first time in this conference and is ready to offer partners "excellent conditions for cooperation". Through the years, N1 Partners has received a high evaluation of the quality of the services provided and the products offered. Figures show that more than 7,000 partners from other countries are cooperating with N1 Partners.
Multi-brand affiliate programs, including online casinos and betting, offer GEO-localized online casinos and create "high-converting brands" by considering the preferences of different audiences.
N1 Partners Group's product portfolio includes brands such as N1 Casino, Slot Hunter, Joo Casino and others. The company's projects operate under the MGA and Curacao licenses, and the N1 Casino.gr project was recently launched with a Greek license, allowing partners to target traffic from different regions.
Here is an agenda of what will happen on those days:
Day 0
This is the day on which those attending the congress will collect the relevant documentation, the accreditation.
Day 1
Opening words
The Future of Affiliate Marketing: Trends and Predictions from Top Industry Leaders with Erin Cigich, Matt McEvoy, Tobias Allgeyer, Florian Gramshammer, Amber Paul
The magic of remarketing: how to double the performance of your ads using consumer psychology, with a question and answer section
Facebook Ads

$149k Per Day - Sending 1 Ad Set At Six Figures [A Case Study Of Facebook Ads Starring Vessi] Q&A With Ashton Angos
Case Studies: How We Use Product Giveaways to Lower CPMs and Increase Our LTV with Jordan Menard

Stage break
Why Affiliates Should Leverage Pay-Per-Call in 2022 (Bonus: Private Consumer Behavior Trends Revealed) with Sarah Gulbrandsen
Tik Tok Ads

Drive your growth on TikTok through organic content, paid ads, and influencer collaborations with Lázar Zepinic
Setup and Scale: TikTok Launch Strategies for Media Buyers with Nick Shackelford
TikTok Media Buying Strategies and Creative Tests for 2022 with Lazar Zepinic, Nick Shackelford, Cody Iverson.

Crypto Marketers Guide: How to Generate a Flood of SEO Traffic with MOFU/BOFU with Q&A and Eric Siu
Affiliate SEO Within Reach: How to Grow and Address Challenges Profitably with Aleyda Solis
Day 2
Opening words
Exclusive Insights from Google: Emerging Markets and Trends to Increase ROI by 2022 with Amin Siala
Wealth Buying: Acquisition Plan to Build Capital Quickly and Minimize Risk with Greg Elfrink
Dropshipper to Brand Owner: Building a Real Brand Through Content, Loyal Communities, and Brand Positioning with Sarah Lamine
Changes in the eCommerce landscape and the impact on affiliate marketing with Betsy Parker
The Next Big Affiliate Opportunity: The Combined Power of Content, Commerce, and Affiliates with Amit Dodeja, Mat Yurow, Usaid Khan
Level Up On Amazon: How To Increase Your Visibility, Sales, And Overall Ranking With Todor Minev
Native Ads: The 4 Pillars Used To Reduce CPCs 10x With Untapped Market Research With Nadim Kuttab
Plug & Play for high-converting advertorials [Lead Gen + Ecom] - James Van Elswyk
Native Ads Dashboard: 2022 Affiliate Playbook on Trending Traffic Sources, Verticals, and Critical KPIs with Haran Rosenzweig, Nadim Kuttab, Dynh Nguyen
If you are in Barcelona and want to enjoy a relaxing and refreshing erotic massage after a hard day of lectures, do not hesitate to contact us. Our erotic massage service, directly at your hotel. The greatest discretion, the best pleasure.